Recipe for Scouse Film
Five students from Redbridge High School were proud to star in the latest film 'Recipe for Scouse' from DaDa, they all thoroughly enjoyed themselves.
DaDaFest are excited to announce that from today the full Young DaDa Recipe for Scouse Film is available to watch online, please click the link or the image below to view it.
Please click here to view the Recipe for Scouse Film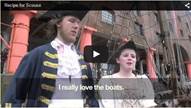 The films are subtitled. Click here for an Audio Described version of the film.
Written, filmed, edited by and starring Young DaDa members, this new short film takes a humorous and creative look at the historical and cultural ingredients of our unique identity. It asks, 'what does it mean to be a young person growing up in Liverpool?'.
"It was the best thing that has ever happened"- Sarah, one of the young people involved.
"An incredibly entertaining film, a delight to watch" - audience feedback from the screening at the Walker during the festival.
Young DaDa produced the film in partnership with First Take and National Museums Liverpool.
It was supported by the Heritage Lottery Fund.