Redbridge Scoop Top Prizes in Enterprise Competition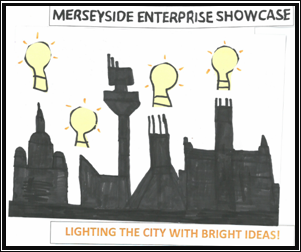 Redbridge pupils were celebrating on Friday 7th March after some enterprising young people from Base 4 won the Merseyside Schools Enterprise Showcase at Aintree Racecourse. The pupils took part in a 'Dragons Den' style event to promote their 'Eco-Bricks'. The pupils have been making fire bricks from waste paper in school. The Dragons were particularly impressed by the pupils' use of waste and were very interested to see the group go on to brand and market their product as they saw huge potential. The win was made even more impressive by the fact that the Dragons described this year's event as very competitive with many brilliant ideas. The pupils' success in the Dragons Den event was matched by Joshua Henderson picking up an award for his logo design for this year's Showcase.
How to use:
1. Hover over the image and click an arrow to change to the next image.
2. Click on a thumbnail to view a larger image.