Our Achievements.


The Kielder Challenge is a national outdoor adventure competition organised by the Fieldfare Trust; it involves problem solving activities that test the skills of a team. The team have to work together, communicate and plan and evaluate the activity. The teams consist of 8 young people, 4 with disabilities and 4 without.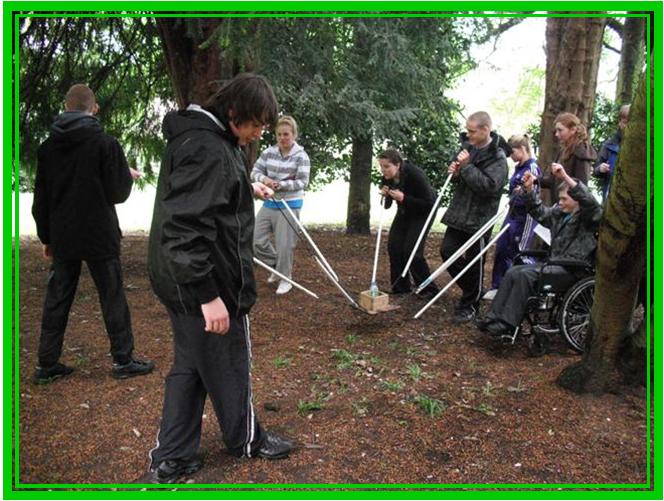 Our 2010 team was Glen, Liam , James and Richard , and along with 4 girls from St John Bosco Arts College they took part in the challenge at Croxteth Park.

Due to the nightmare cloud of volcanic ash our practice session didn't happen as the St John Bosco member of staff was stuck in Australia! So our team didn't actually meet until the day of the challenge!

The day began with a practice activity before we got going with the real challenge! Our first game was accompanied by an awful lot of rain! But our team did not let this spoil their enthusiasm or fun. Some of the games could be a little frustrating, but our team did well at communicating and working together. A few of the activities were so hard that even Sam, Anna and I (the staff!) were struggling!! Although we weren't actually allowed to help anyway and kept getting told off!

I was really proud of how well our boys did. They really involved themselves, chatting to the girls and taking initiative in the activities. We came back to school tired, a little bit wet but with smiles on our faces! We had a great day and look forward to next year's challenge!
Hazel Pastoral Support
...........................................................................................................................................................

On the 24th of March we took part in a Tag Rugby Festival at Liverpool St Helens RUFC.
The Redbridge Super Squad was: Jenny, Glen, Andrew, James, Sam, Daniel, Curtis and Alex
The day started with a warm up and a coaching session to get us ready, and ready we got... Our first match was against Rowan Park and some unorganised defending allowed us to slip through, and although Rowan Park toughened up their defence later in the match the damage was done. James (4), Alex, Andrew, and Jenny (2) all got their names on the score board. The Match finished 8 tries to 0 (40-0) to Redbridge.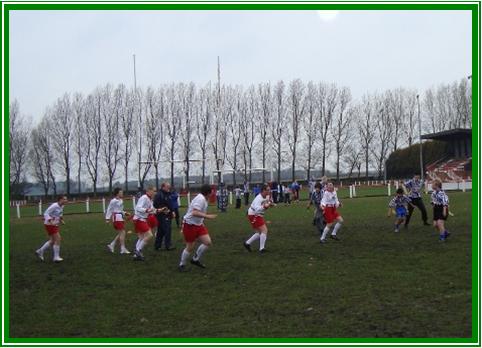 Match 2 Redbridge V Lansbury Bridge.
Lansbury Bridge were more tactical and caught us asleep at the beginning of the match and scored 2 good tries before we realised what was happening. We were able to toughen up our defence, and link some great passing and running into space to come back and beat Lansbury 6 tries to 3 (30-15) with tries from James (2), Alex, Glen, Andrew, & Jenny.
Match 3 Redbridge V Cavendish
Cavendish were our toughest opponents yet, and it was a tough fought battle. Cavendish going ahead first then Redbridge taking the lead back. Redbridge showed amazing teamwork and support for each other, and despite some comments from Cavendish team members came out making the staff watching very proud. The match finished Redbridge 2 – Cavendish 4. Try scorers - James & Alex.
Match 4 Redbridge V Lansbury Bridge
We met Lansbury Bridge again but this time were awake from the start, and although Lansbury threatened occasionally the Redbridge defence held strong. Special mention go to Andrew who intercepted a pass and ran the length of the pitch to take us ahead. The Match finished Redbridge 5 - Lansbury 2 (25-10). Try scorers – James (2), Alex, Andrew, Jenny.
Match 5 Redbridge V Cavendish
Redbridge knew they would have work hard this match and came out strongly with Glen scoring. Cavendish responded quickly with a try. James made a great run into the Cavendish half and offloaded ball in the tackle Jenny who was able to squeeze in the corner for a try. Cavendish responded again and scored 2 tries take them 2 -3 ahead. A great run from Jenny saw her score in the corner again and even the scores. With only a few minutes left and scores even Redbridge knew they had to pull together. Redbridge ran the ball from inside their own half, every time a player was tackled there was someone in support. The ball was passed to Alex who made a dash for the corner, she was stopped short but James was in support to collect the pass and finished the move scoring in the corner. A well worked team try. The Match finished 4 – 3 (20 -15) to Redbridge.
A fantastic team tournament, staff were incredibly proud of all students, but special mentions go to Alex and James who played their socks off, scoring tries, running the ball and focussing on the game.

Well Done All.
Gavin Pe Teacher