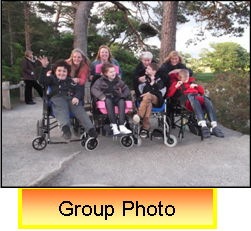 Chloe; Joseph-B; Joseph-S; and Josef all had a fantastic time at the Calvert Trust in June.
They participated in a range of outdoor activities including sailing; canoeing;
horse and trap riding; abseiling and free swinging sessions in the sports hall.

Chloe, Joe; J.J. and Josef did amazingly well in all activities.

Chloe did really well abseiling down the slab and holding and releasing the rope as she went down.

Joe really enjoyed the free swinging in the sports hall; J.J. is a natural horse rider and was very confident as he rode outdoors;

and Josef just loved canoeing on Lake Bassenthwaite and moving his hand through the water.

A great week was had by all.
How to use:
1. Hover over the image and click an arrow to change to the next image.
2. Click on a thumbnail to view a larger image.