Cakes Galore!

Mary, one of our staff from Class 9, entertained a group of parents today by sharing her skills and the delights of baking cakes! The session included the opportunity for everyone to have a go with all ingredients on hand supplied by the school. After 2 hours of Mary's expert tuition and lots of practice the results were outstanding.

The parents were delighted to attend and had a fun filled baking session.

Many thanks to the parents that attended; and a special mention to Mary who organised and delivered an excellent session.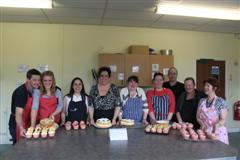 Click here for a larger viewing
How to use:
1. Hover over the image and click an arrow to change to the next image.
2. Click on a thumbnail to view a larger image.