Design and Technology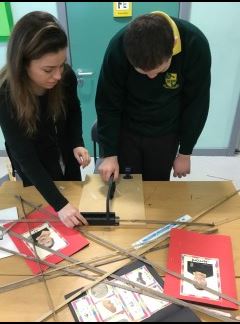 At Redbridge High School we see Design Technology as an activity which spans the curriculum we offer, drawing on and linking a range of subjects. Work undertaken in art and design, food technology, textiles and ICT will be coordinated to improve pupil's understanding of the significance of technology to their quality of life. Through a variety of experiences our pupils will acquire a range of skills which they will continue to develop into adulthood. We are aware of the links Design and Technology has with the other national curriculum areas, and in some cases tasks will arise naturally from thematic work, imaginative play, stories and rhymes.
The scheme of work has been designed to allow our pupils to develop a variety of skills from designing, making and then evaluating their work. For our ASD pupils this is presented in picture format, pupils are shown an example of what they are making at the beginning of the project and then it is carefully broken down into more manageable sections and work is recorded through photographs throughout the process. Pupils are also given the opportunity to experience working with different materials and textiles eg using a sewing machine.
Design Technology draws upon skills and knowledge acquired in other curricular areas and consolidates that prior learning into a tangible object that are pupils can explore.

How to use:
1. Hover over the image and click an arrow to change to the next image.
2. Click on a thumbnail to view a larger image.